Robert N. Hall

Pioneer in semiconductors


Robert Noel Hall is one of the most significant pioneers in the late 20th century at the General Electric Company. His exceptional work has resulted in improvements in an innumerable amount of devices.

Major innovations:

Diode Laser (semiconductor laser) - used in over a billion devices worldwide today.
Semiconductor power rectifiers - one example is the SCR, an extremely important part of power conditioning equipment today
Lithium drift detector - an important tool used in nuclear physics
Magnetron for ovens - the key component in a microwave oven

Biography

"Bob" Hall was born in New Haven, Connecticut on December 25, 1919. Hall earned a B.S. in Physics at CalTech in 1942 and a Ph.D. in physics at CalTech in 1948. He then returned to the General Electric Research and Development Center in Schenectady, New York, where he had worked during WorldWar II on continuous wave magnetrons to jam enemy radar.

After the war Hall worked first on transistors, succeeding in making ingots of never-before-available intrinsic germanium from which devices could be fabricated. He had to develop a new way to create purified germanium. A "chance observation" while measuring the electrical properties of one of these ingots led him to his discovery of alloyed p-n junctions, the fundamental elements of power rectifiers and some transistors.

Left: Hall and Saul Dushman looking at a pure ingot of germanium. 1950s.

During the 1950s Hall developed the SCR (silicon controlled rectifier) along with coworkers Bill Gutzwiller and Gordon Hall.

His basic rectifier structure, with silicon replacing the germanium, is used today for AC-to-DC power conversion in electric locomotives and high voltage direct current electrical transmission. Learn more about the SCR and semiconductor devices on our page here >
| | |
| --- | --- |
| Above: a large old HF power supply used to power a microwave (pre-solid state). This heavy 'box' is about 1.5' long (45cm). | Above: a solid state HF power supply which does the same job as the heavy box to the left. This one is very light and and small. Bob Hall's work with solid state power conditioning devices allows for much smaller computers and appliances. |
Robert Hall developed a new type of magnetron which ended up as the key component in microwave ovens. He was working on radar during WW2 and developed the new magnetron. Rudy Dehn and others at GE later developed the microwave oven, including replacing the large fragile magnetron with a durable ceramic one.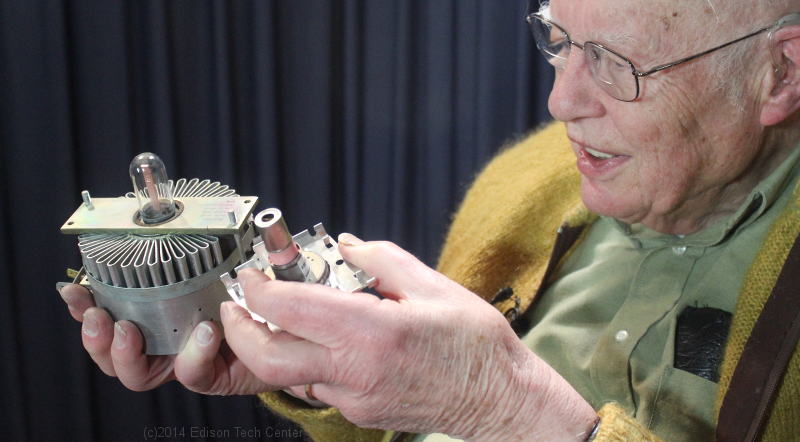 Above: Rudy Dehn at the Edison Tech Center holds old (left) and new (right) magnetrons used in microwave ovens.

In 1962 Hall invented the semiconductor injection laser, a device now used in all compact disk players and laser printers, and most optical fiber communications systems.
Read more in detail about his diode laser here.


During the 1970s energy crisis Hall worked on photovoltaics.

Dr. Hall retired from GE in 1989 but still lives in the town of Niskayuna, Schenectady County, NY, not far from what is now called GE Global Research.


Videos:


The Edison Tech Center interviewed Dr. Hall in 2008 about various subjects, here are some excerpts:

The Semiconductor Laser, how it works:

Purifying Germanium for the Lithium Drift Detector:

The Diode Laser (interview by GE)




Further reading:

IEEE Global History interview with Mr. Hall >
Large detailed article on Mr. Hall's Diode Laser >
Related Topics:
Photos:
Edison Tech Center
General Electric
Sources:
Interview with Robert Hall. 2008. Edison Tech Center
Interview with Rudy Dehn. 2013. Edison Tech Center
John Harnden Jr. - General Electric General Engineering Laboratory
If you are a historian and wish to correct facts or publish a commentary or embedded article feel free to contact us.
Image Use:
Photos::
Permission and fees are required for use of photos in printed or internet publications.
Educational Use::
Students and teachers may use photos and videos at school. Graphics and photos must retain the Edison Tech Center watermark or captions and remain unmanipulated except for sizing.
Videos::
DVDs are available
for personal/educational use. Republication of any part or whole of any ETC video requires a professional
license agreement
. Contact us for legal permissions and fees.