2. History and Developments
The history of the incandescent bulb is centered on the development of filament types, so we will organize it by filaments.
Platinum and Iridium Filaments: 1802 -1880's

Humphry Davy created the first incandescent light by passing current through a platinum strip. It caused a glow and did not last long, but marked the beginning of incandescent light development. Experimenters continued over the next 70 years to use platinum and iridium. Frederick de Moleyns used a platinum filament in an evacuated glass tube to make a light bulb. It was only mildly successful due to a blackening of the bulb, which blocked light output. Combustion of the filament material and blackening on the upward side of the bulb was a frustrating consistent problem for early lamp inventors. The platinum material was also expensive.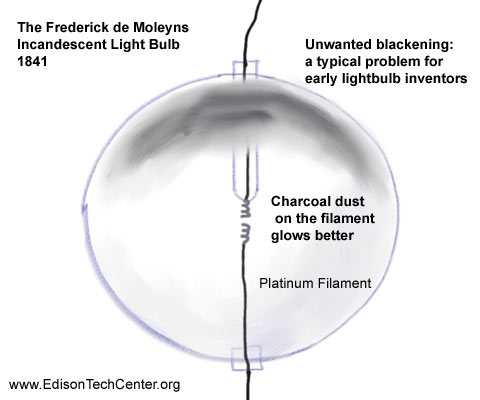 Early inventors knew that making a vacuum in a bulb would help reduce blackening and lengthen bulb life, the problem was ways to better create a vacuum had to be developed. Heinrich Geissler was one of the early physicists to develop a good pump and system. Still, early bulb inventors 1802 - 1879 lacked a system good enough. As is typical with invention, many know the answer, but other technological developments are needed to move forward.
Blackening of the incandescent bulb, video:
Carbonized Threads and Paper: 1860's - 1883

Joseph Swan and Thomas Edison independently hit success by making a bulb that would last a reasonable number of hours.

Swan used carbonized paper to create his early filaments.

Edison first used carbonized sewing thread as a filament, he managed to get it inside a vacuum. This made his first practical lightbulb. He used carbonized sewing threads until 1880. Then he used paper bristol board. (Carbonized paper) This move increased lamp life to 600 hours.
Why Edison Triumphed: Joseph Swan worked on the incandescent light idea since 1850. Swan did not succeed because he used only a partial vacuum in his bulb. He also used a carbonized paper filament. Edison figured out how to create a pure vacuum in his bulbs. He did this by heating up the bulb at the same time that he pumped out the air. He used a Sprengle pump.
| | |
| --- | --- |
| | The Sprengle Pump to the left was used by Swan and Edison to pump air from the first light bulbs. Read more about the pump by clicking on the Scientific American article above. |
Above: See our collection of bulbs at the Edison Tech Center on display.

Bamboo brings great improvements: 1883: As the story goes Edison was using a fan on a hot day, he unwound fine bamboo on a fold-out oriental fan. He carbonized it and tested it as a filament. He send assistants to Japan to find the type of bamboo that was used in that fan. They found it and imported the filaments.
The first bamboo filaments had a square shape because they were cut from larger pieces using a certain process. He electroplated the bamboo directly to the lead in wires to avoid the high cost of platinum clamps. Later he used carbon paste to adhere the bamboo to the lead in wires.
Our video about early Edison Bulbs with cellulose and bamboo filaments:
Cellulose Filaments: 1881 - 1904
Sir Joseph Swan developed the cellulose filament in 1881, however Edison continued to use bamboo filaments until the creation of General Electric in 1892. Cellulose filaments were replaced by Willis Whitney's GEM lamp filaments.
Video about the Mazda Bulb:
The move to metallic filaments: The Era of Tantalum


Tantalum Filaments: 1902 - 1911

Tantalum was the first metal filament on the market. Like tungsten it has a very high melting point, so it can be heated to incandescence without destroying itself like most metals. Tantalum was so vastly superior to all other filaments that it became king from 1902 - 1909. After 1909 the sintered tungsten lamp really began to gain popularity. The arrival of a ductile tungsten finally ended the reign of tantalum.

Werner von Bolton(a Georgian living in Germany) discovered that using tantalum for a filament allowed for lower energy consumption and greater brightness. Siemens and Halske Company produced these bulbs. The tantalum filament became successful and became a major threat to General Electric's sales. This stimulated GE to invest more in it's recently formed research lab to try to come up with a better lamp.


Left: A lit Tantalum Lamp on display at Siemens Forum in Munich, Germany

Below: The hooks used to hold filament

Left: The WOTAN Lamp, made with a drawn-tungsten
WOTAN was a trademarked name owned by Siemens & Halske
GEM Lamp Metallized Filaments: 1904 - 1907

Willis Whitney of GE Schenectady develops a way to bake a carbon filament at 3000 C to create a filament that behaves much like metal. This improves efficiency by 25 %. This filament was used in the famous Mazda lamps which produced a very bright light.
Sintered Tungsten Filaments: 1904 -1911
In 1904 sintered tungsten is developed by Alexander Just and Franz Hanaman (Austria). Tungsten improves the lamps efficiency by 100 % and is used by GE in 1907 after it buys the rights for it.
*Tungsten and Molybdenum filaments were used by A.N. Lodygin (Russia) in a 1900 "Exposition Universelle" in Paris

Ductile Tungsten Filaments: 1908 - today
William D. Coolidge had been working with tungsten which proved to be a superior material for a long lasting lightbulb over any other material to date. Previous sintered tungsten filaments had been efficient, but brittle and not practical. Coolidge figured out how to heat tungsten and draw it out through heated dies of decreasing diameter. The result of his work was a workable, bendable (ductile) wire that was high strength and made a great filament material. The new material was used in bulbs in 1911 and this is still used today. See our inventors section below for more advancements in the incandescent bulb.
The future of incandescent lamps:
The Incandescent lamp has been in the average household for more than 120 years. In the last decade a major initiative to develop more efficient lightbulbs has replaced much of the world's bulbs with compact fluorescents. There has been significant resistance to bans on the incandescent bulb