Microphones
Unit IV.A
Engineers from Thomas Edison and Alexander Graham Bell to the Shure brothers have developed many types of microphones. Our world has become dependent on microphones in everything from common telephones to highly specialized scientific instruments. Music and audio recording is the most well known use of microphones however engineers use them for many kinds of cool things such as predicting the structural failure of a building, car design or locating vessels.

Sections:

1.)Basics
2.)Types of Mics
3.)Brief History
3.a)Early Mics
3.b)Carbon Mics
3.c)Diaphragm and Stylus with Wax Cylinders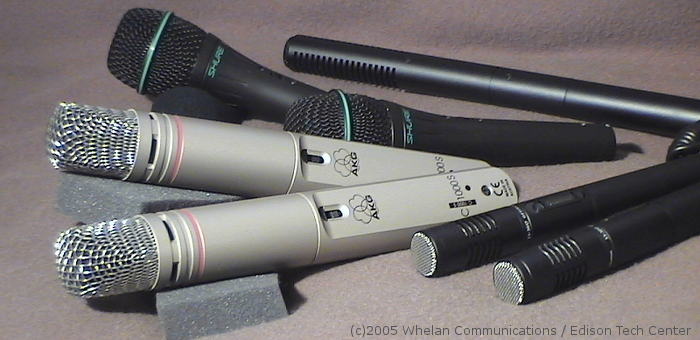 Various kinds of microphones: dynamic (handheld) and condenser (shotgun type)
1.) Basics on how they work
Microphones are devices which convert sound pressure waves into signal patterns which can than be reproduced by a speaker or be used to measure the intensity and location of something (like a submarine, nuclear blast or earthquake). In the first sound recording device ever made a vibrating diaphragm would move a needle, etching a track into foil, however today we convert motion into electrical signals (alternating current).

Microphones, just like speakers are designed to work at specific frequencies. Some designs are more limiting than others, so it's important to understand this when selecting mics for specific uses. When you buy a mic from a professional manufacturer they will give you the frequency rating (60-20,000 Hz for example).
| | |
| --- | --- |
| | Left: an original 1920s recording of "The Charleston", the quiet area in blue is the rather high noise during a silent moment, the signal is marked in yellow. Primitive microphones and poor storage (on record) result in the high amount of noise. |
Audio Quality, Signal to Noise Ratio:
Generally lower cost mics have a poor signal to noise ratio, the sound 'signal' gives you distinct sounds which rise above a general noise 'hiss'. Electromagnetic interference from radio signals in our environment and the devices own design will create noise. High-end mics like Sennheiser, AKG, Letrosonic and others are engineered for low noise. Remember that high end mics won't save you from a bad recording, having the audio board improperly set, or bad environment (windy day, crowd noise etc.) will make it hard to extract clean audio from the hiss. Traditionally wired microphones provide a lower signal to noise ratio, and are less likely to be affected by RFI.
2.) Types of Microphones:
Microphones can be designed to pick up sounds in one area better than another area. Depending on your use you may want to pickup a specific sound and minimize others, or you may want to pick up everything possible in every direction. Pick-up patterns include cardioid, omnidirectional, hypercardioid, bidirectional, and variable directional learn more about pickup patterns here >

Both lav mic and shotgun mic (hanging above) are used in professional television. The two different mics give two different sounding result. The lav mic tends to be better at capturing low frequencies within 20 cm.

Shotgun Microphones

The "Shotgun Mic" is like a telephoto lens in photography. It is designed to pick up sounds in a very specific area, often at some distance away.

Example Uses:
-Two shotguns picking up an entire orchestra from 30 meters away, one pointed at the left half of the orchestra, and the other catching the right side
-Shotgun on a pole hanging over a specific person speaking on film, pointed at their mouth
-Another use includes gathering sound effects, pointing the shotgun at a train or football player in action

Lavalier Microphones (Lav Mic)
Lav mics (also called "clip-on" mics) are used for close micing, such as for an public lecturer or TV interviews. Lav mics most often are a condenser mic. Ideally the lav mic will pick up a speaker or singer and the pick-up pattern will fade quickly, not picking up other sounds close by.
-Wireless lav mics are commonly used on speakers on stage, the mic can be hidden or visible
-Wireless tiny mics are used in theater productions. The small condenser mics can be hidden in the hair or taped onto the inside of the top of the shirt

Array Microphones
By using several microphones together in phase you can perform precise scientific measurements. Sound can be spatially mapped when you factor in fluid dynamics and density of materials in which the sound flows through. Mics can be used with sound/pressure generation devices to find out the density of unknown materials and shapes (such as rock layers and oil deposits in the earth). We can use microphones to 'see' inside of an engine block to check for cracks and defects.
Engineering Mics:
Dynamic Microphones
If you read our page on speakers you'll understand how sound is made by passing current through a coil around a magnet. The coil will move back and forth causing a diaphragm to vibrate. The dynamic mic works in reverse, with sound waves causing the diaphragm to vibrate, coils attached to the diaphragm then move back and forth around a magnet, that change in magnetic fields generates a tiny amount of electric power. Amplifiers introduce a power source (like from batteries) to magnify the current. Dynamic mics are generally durable and good for hand-held mics. They are not the most sensitive mic, nor do they come in as small of a size as condenser mics. Dynamic mics don't need a battery in the unit, they can be plugged directly into audio amplifiers.
Durable and high pressures:
Dynamic mics can be designed to deal with high pressures (such as 160 db). They are ideal for micing drums or explosions as they are "hard to break".
Laser Mics
This type of mic is not common but it uses a laser bounced off of a window or other natural diaphragm, a photosensor reads the bending in light frequencies and can translate that into sound. This type of mic is most well known from spy films. More on laser mics from a manufacturer >
Condenser Mics (aka electrostatic mics, capacitor mics):
These are the most common form of mics and there are many kinds of condenser mics. The condenser mic is made of a capacitor. The diaphragm forms one side of the capacitor and as it moves the gap in the capacitor changes. This changes the capacitance value and thus creates a varying signal. Condenser mics need a small amount of power going through the device to make them work. Power, often provided by a sound board or battery inside will create the polarization needed in the capacitor.
Condenser mics are extremely accurate and are precisely calibrated. Some types of condenser mics are very fragile and should be stored properly to avoid damage from moisture and dust.
Uses: telephones, computers, lav mics, musical instrument recording.
Ribbon Mics:
Ribbon mics are similar to flat panel ribbon-driven speakers, they have a foil or other material suspended between magnets. The super-light film (ribbon) moves easily, making this a potentially very sensitive mic. When the film moves it generates a small amount of current.
Piezoelectric Mics
Piezoelectric mics use the distortion of a crystal to generate sound. This type of mic is quite durable, however it is not too sensitive. Uses: hydrophones (underwater recording), blast measurement, specialized applications.
Fiber-optic Mics
Fiber optic microphones convert sound into light signal. This type of mic finds a niche in places where there is significant electromagnetic interference (EMI) that could make standard wired mics inoperable. It also is used in areas where traditional microphones could cause problems by generating EMI (such as close to very precise scientific instruments).
Electret Mics

This mic is a capacitor like a condenser mic but doesn't have the dynamic range and frequency range of a standard condenser mic. For specific uses in specific frequency ranges (like the normal human speaking voice) they can produce a high quality result. The dielectric material has a permanently embedded static charge. Electret condenser mics have been used in some lavaliers since 1962. The electret foil film is either a diaphragm or is adhered to an ideal diaphragm substance. This mic requires a pre-amplifier to boost the weak electric signal and requires a 1.5 volt battery or phantom power (from audio board). Uses: television, public speaking, recording devices, telephones.


Electret lav with it's attached preamp
Other kinds of Mics:
Full list of mic types (wiki) >
Powering Microphones >
3.) Some History on Mics
Early Electromagnetic Microphones and Telephone
1850s - 1879
The "telephone" as defined here is a device which is capable of bi-directional speech transmission. The two general parts of the telephone was the microphone and amplification devices used to send that signal over distance. The discussion of who was "first" to develop the telephone and its electromagnetic microphone is very unclear with different ethnic/national groups claiming to be the "first" and it has really become more a discussion of politics than engineering in the mainstream media. Here we are focusing on the microphone.
The inventors and engineers of telephone:
One thing we can be sure of is that many engineers were working on microphones with the purpose of use in a telephone (they were not working with music recording or radio uses in mind just yet). Charles Bourseul, Johann Phillipp Reis, Antonio Meucci, Werner von Siemens, Cromwell Varley, Poul la Cour and Elisha Gray all contributed to the development of electromagnetic microphones and speakers however none of them created a reliable product which produced relatively clear voice. Alexander Graham Bell and Thomas Watson depended on foundations set by the others to create a product which worked just barely enough to be used commercially.
Graham and Watson's first microphone used an iron reed next to an electromagnet. When the material vibrated it created varying current (AC signal) which was replicated on the other side. It took a good amount of experimentation with diaphragms to develop something that worked in the lab but wouldn't last long enough to survive commercial use, however this was enough to file a patent for proof of concept. Bell made the first long distance call work (10 miles) in 1876. Over the following few years Bell improved the microphone and magnetic system used.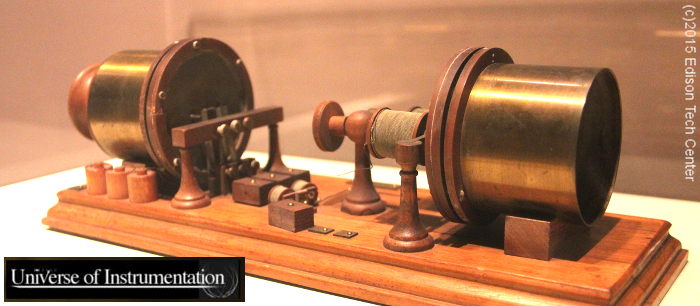 Above a photo of Bell and Watson's primitive first telephone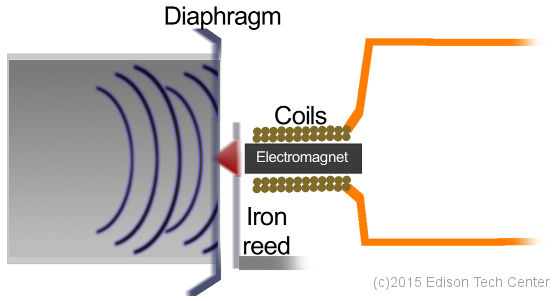 Above a diagram showing the vibrating iron reed and its construction
Liquid Microphone (first variable resistance microphone)
A liquid microphone which consisted of a needle placed into a liquid acid conductor proved to be more responsive than Bell's microphone and ended up being used with Bell's system. Elisha Gray developed the liquid microphone and was never compensated because it is said he never finished the patent process. Gray was a prolific inventor-engineer who worked on the telegraph, telephone microphone, acoustic telegraph, rudimentary loudspeakers, and music transmission via telegraph. He was a founder at Western Electric Company. The liquid microphone did not last long for use in telephone as Thomas Edison came into the commercial electric business with his carbon microphone which was superior in many ways.

Above: Shure Brothers Carbon Mic Model: 33

Carbon Microphone


1879 - 1920's (aka Button Microphone, Carbon Transmitter)

Thomas Edison revolutionized the communications industry with the carbon button microphone. This device allowed voice signal to be converted into alternating current which was passed through a transformer and therefore this allowed higher voltages to be used to send the signal over long distance. Bell quickly adopted the use of carbon microphones in his system.
See our video below to understand how the carbon mic works: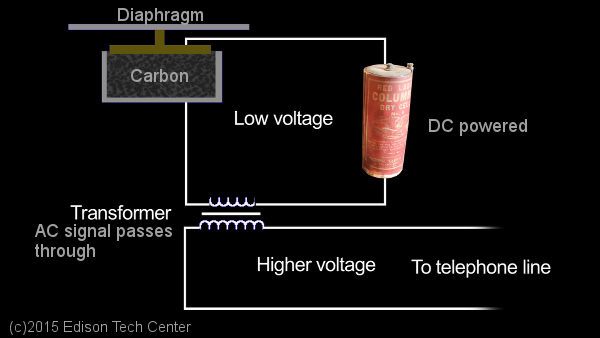 Above: schematic of carbon microphone with transformer
The carbon microphone was used in early AM radio transmissions and could be used as an amplifier. The microphone was relatively cheap to produce, had a long life, robust and portable compared with the liquid microphones. The carbon microphone dominated from 1879 to the 1920s when it was replaced by more advanced variable resistance microphones. Since the telephone system was large, slow to change and had a profitable monopoly there was little pressure to move away from the inferior sound quality of the carbon microphone. Rotary dial telephones were manufactured with carbon microphones until 1980s.
"American Microphone" double carbon button mic from the 1920s
Microphones used with Wax Cylinders
Before Thomas Edison developed the carbon microphone for telephone he developed a more simple "mechanical" mic which would engrave foil or wax to record voice and music. In 1877 he developed a system which would imprint signal as bumps on tin foil. The oldest surviving recording from 1878 was restored by the Schenectady Museum and digitized. The basic idea was to attach a stylus to a diaphragm and the slight movement would indent tin foil. Edison, his team and competitors worked over the years to develop better "microphones" for wax cylinders. At the time wax cylinder recorders were known as "records".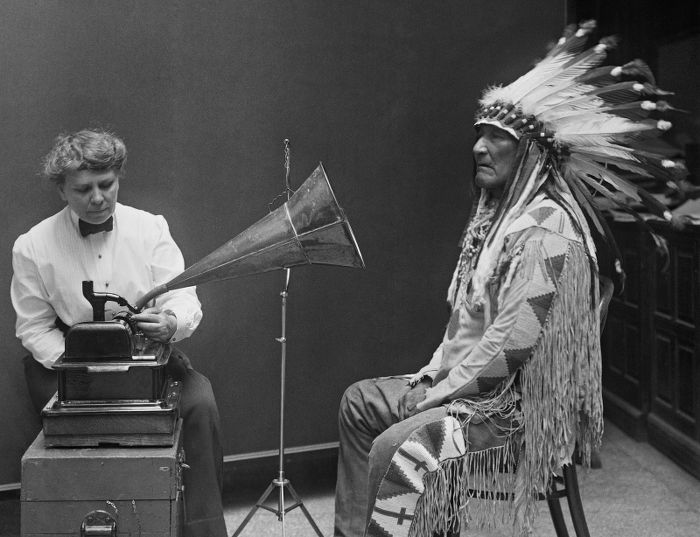 Above: Recording to a wax cylinder, speak or play your instrument into the horn because getting the optimal amplitude was difficult before electric amplification technology.
Not: The "microphone" used used with wax cylinder records is not a "microphone" according to some definitions because it did not convert sound into electrical signal. Wax cylinders were recorded in a rather crude method of having many recorders with horns facing the music performers. The move to carbon mics which created electrical signal did not help with with the task of recording wax cylinders as there was no way to record and reproduce music electrically until the development of the electrically amplified loudspeaker in the 1920s.
Copper and Mica Diaphragms used in wax cylinders:
These diaphragms were placed in the narrow part of the horn. To record early music and voice one would speak into the horn and this part with vibrate, etching a groove into the wax cylinder.
Video below: Media Recording History 1870-1900: See a wax cylinder begin etched at the Edison Tech Center:
Further Reading:
Magnetic Recording (ETC site) >
Edison's early phonograph work from the Schenectady Museum site
Further Reading:
The Microphone Handbook PDF >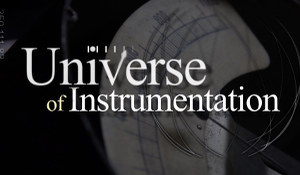 Universe of Instrumentation

Article by M.W.

Sources:
AKG Company
Edison Tech Center displays on carbon mics
Shenise Productions
Whelan Communications
The Microphone Handbook. PCB Piezotronics. www.pcb.com
Interview with Robert Lillquist. Edison Tech Center. 2015
Edison's Voice Recording is Old, but not the Oldest. NBC News. 2012
Photos:
Edison Tech Center Copyright 2010-2015

For use of Edison Tech Center images and videos see our
licensing agreement
.