After the success of the Great Barrington AC system, George Westinghouse, William Stanley, and Oliver B. Shallenberger worked together to create the first commercial AC installation in the US at Buffalo, New York.

The Future of Stanley:

William Stanley later established the Stanley Electric Company in 1890 in nearby Pittsfield Massachusetts. There his company built and sold the first transformers. In 1903 General Electric bought the company and continued to develop transformers and capacitors there. The Stanley Electric Company is the root of GE's transformer and capacitor business.


A postcard featuring the Stanley Electric Company in Pittsfield, MA
Sources:
The General Electric Story - A Hall of Electrical History Publication (book)
Wikipedia article on transformers
MIT website: Inventor of the Week" William Stanley
IEEE Global History Network: Milestones: Alternating Current Electrification 1886
The Power Makers: Steam, Electricity, and the Men Who Invented Modern America by Maury Klein. 2009.

Photos by Michael Whelan, Great Barrington Historical Society
Technical information by Steve Normandin, Rick DeLair
Edison Tech Center, Schenectady, NY
Early AC links:

Schaghticoke Power Station and Steinmetz's monocyclic power experiment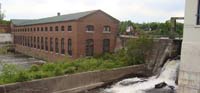 Mechanicville Power Station, Mechanicville, New York 1897, HVDC experiements in 1932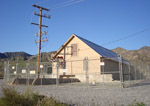 Redlands Mill Creek 1 powerhouse Redlands, CA 1893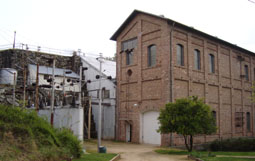 Folsom Powerhouse, Folsom California 1895
Dolgeville Dynamo Dolgeville Mill, Dolgeville, NY 1879
Home

Photo/Video use:
Commercial entities must pay for use of photos/graphics/videos in their web pages/videos/publications
No one commercial or public is allow to alter Edison Tech Center photos/graphics/videos.
Educational Use: Students and teachers may use photos and videos for school. Graphics and photos must retain the Edison Tech Center watermark or captions and remain unmanipulated except for sizing.
Permissions - Videos: We do not email, FTP, or send videos/graphics to anyone except in DVD form. Payment is needed for this service. See our donate page for pricing, and our catalogue for a listing of videos on DVD.
Professional video production companies may get videos in data form with signed license agreements and payment at commercial rates.


copyright 2010 Edison Tech Center